How Does a Weary World Rejoice?" Enter Discussion on Tuesdays
Christ was born into a weary world. King Herod ruled the land with ruthlessness. The Romans treated the people with contempt. Poverty and destitution were pervasive. And yet, Christ was born, bringing good news of great joy for all people.
We invite you to look closely at the details in the Gospel of Luke and discover where joy is sprinkled throughout the narrative despite trepidation, fear and grief. And then consider how joy can be a companion to you this season. You deserve to feel joy and the world needs your joy.
Advent study/devotional books are available and we will meet Tuesday evenings 6:30pm November 28 through January 2. We hope you'll join us as we seek a thrill of hope in our hurting world.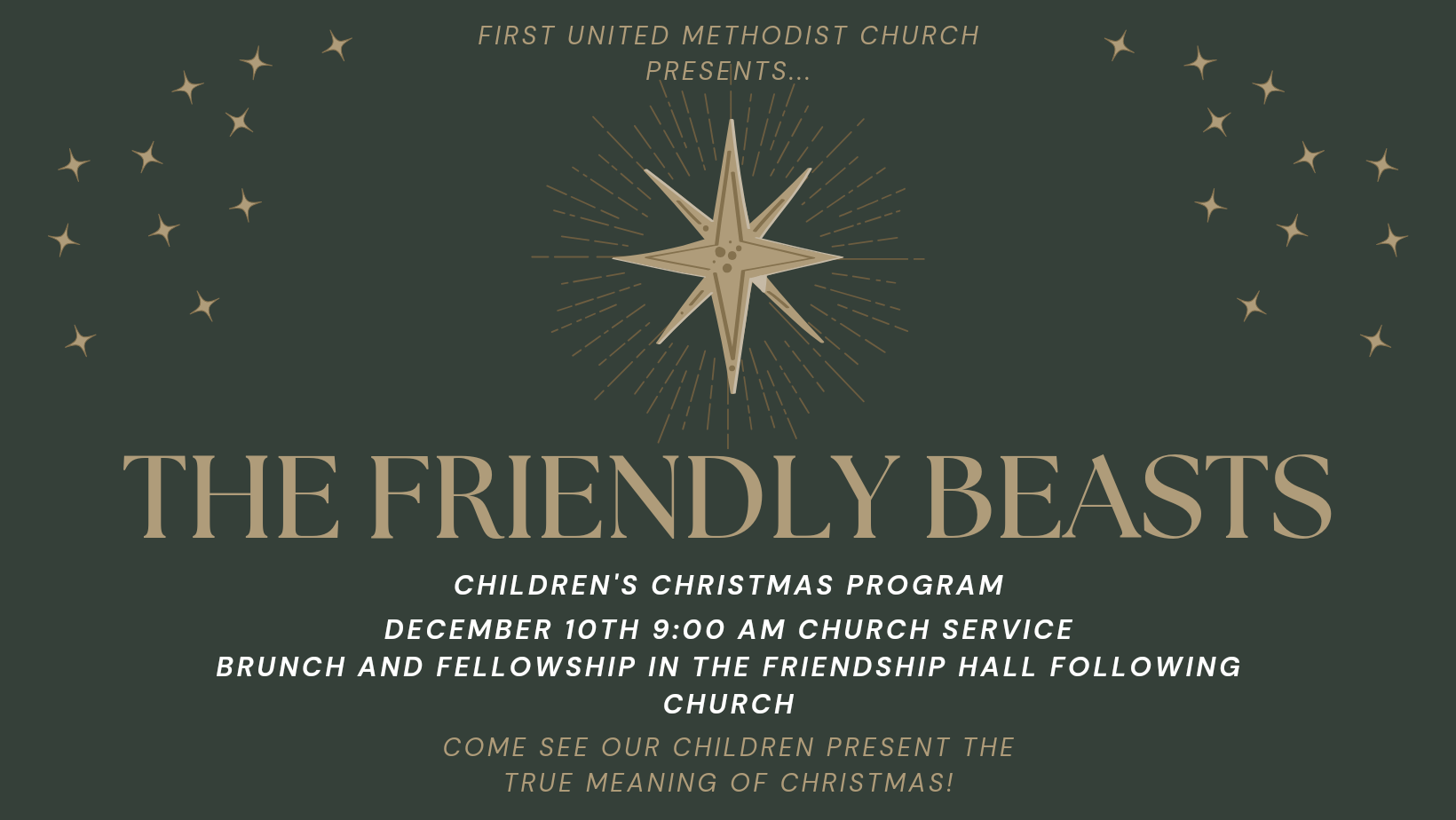 Parsonage Open House
SPRC will serve as host at a parsonage open house Sunday, December 10, from 1 – 3:00 pm at 2404 Hackberry Dr.
Pastor Erling and Barb wish to express gratitude to the members of Iowa Falls First UMC and their neighbors for the love that flows their direction.
Come and tour the home and/or spend time in community. Christmas Peace.
Thank you to everyone who helps keep the First UM Food Pantry stocked and ready to help the next needy neighbor! Many of you specifically fill the Little Food Pantry with goodies; others bring monetary donations so we can purchase items as needed. Both ways work great! Just a reminder: As we move into the winter season we need to make sure items can endure the freezing season. Again, our thanks!
First United Methodist is currently accepting cash donations for Christmas gifts for kids in need. This project is commonly known as the IF-A Nurse's Fund and is used to purchase cold weather essentials—coats, hats, socks, etc.
To participate, simply write a check payable to First United Methodist Church in whatever amount you decide. Include "Christmas Angel Project" in the memo line and drop it off at the church office or mail it to:
First United Methodist Church 619 Main St. Iowa Falls, IA 50126
All money collected will be taken to the IF/Alden School Nurse to purchase the gifts. No shopping. No wrapping. Smiles all around. Deadline is Monday, Dec. 11. Thank you.
Advent – Lord's Baptism Sermon Series
Joy is often a companion to many other emotions. We can feel joy in addition to feeling many other things at once; grief, anticipation, anxiety, excitement, weariness. Perhaps many of us live with the myth that joy is not something we deserve – or that it is out of reach. But our joy is rooted in the truth that we belong to God. You deserve to feel joy. The world needs your joy, even if you are weary. Our joy is better when it is shared.
Longest Night Worship Service
In the darkness, it can be difficult to find your way. In the darkness of grief or pain or addiction or loss, it can be hard to see the Light born on Christmas day. The Longest Night service names and recognizes the dark in which we reside and brings the light of Christ in better focus, reminding us we do not walk these difficult times alone.
We invite you to join us for this special service on December 21, 6:30 pm at the Iowa Falls First United Methodist Church in joint participation with Bethany Lutheran and First Congregational churches of Iowa Falls. Pastor Erling Shultz, Pastor Maureen Howard and Vicar Lisa Robison will lead our time together. Come and find the Light of Love that is in all our human experiences.